Rushing to my daughters Lacrosse game, I had just finished a conference call. I looked to find my husband and once seated proceeded to check my email. Three years ago, this was a common way of life for me. I hustled to get ahead and while that is necessary as you move up the ladder, it can be all consuming. It cuts into your time with family, community and yourself and we constantly struggle with that word "balance."
The experts have been lying to you
If you try to juggle three balls in the air and two more are thrown at you, the high performer in you will get resourceful and find ways to juggle all five. The issue comes when you do this while driving to pick up the kids and you're calling Alexa to start dinner.
We're smart and resilient and find ways to balance everything. And when we're done juggling, we sit down in the evening with our significant other saying to ourselves we're spending quality time, when in reality our mind is juggling the work that did not get done and all that must be done the following day. This is not balance, but the lie we've been told is to hustle and find balance at the same time. In reality, we lack the skills to prioritize our time and filter out those things that do not serve us. This is the root of why we don't hold ourselves accountable when it comes to our career.
The career conundrum
Doing more to get ahead is what is programmed into our minds. When we get very clear on whether we need to respond to every email, attend every meeting and generate every report, we soon realize that maybe only 30% of what we do really matters. When I say what matters, it includes the most important work you do at work in service to your managers & the business and might contribute to your career aspiration as well. The rest of what you do is busy and necessary, but clearly does not move your career forward. So what do you do? You need to do the work that is part of the job description. Or do you? I suggest, you have your priorities out of alignment and this is your opportunity to prioritize your career and be personally accountable for getting ahead in your career.
Framework for prioritization and accountability
We need to assure we serve the people we are employed with, so prioritization of what is important is key. Only then will we find the time to prioritize our career aspirations and hold ourselves accountable. In order to do this, we need a framework and a filtering system to stop doing the work that is not value added and start being accountable for your career:
What are the things you can stop doing that no one would notice?
What are the things you do frequently and with no risk?
What are the things you could either do more efficiently or could you delegate?
How many hours did you gain back in your week?
What are the 5 things you need to do to start doing to get ahead in your career?
How much time do you need each week to do just one thing to move forward?
Spend some time visualizing where you want to go and save that image in your head
Prioritize the 5 things you need to do to achieve that image you see
Schedule to do one thing each week
Make it visual and when you're off track, use a system to get back on track
Look at what you did in those 5 weeks and celebrate you moving forward with your career.
When we learn to discipline ourselves in creating a plan, prioritizing it and achieving key milestones, we've learned an important skill called Strategic Planning. If you want to move ahead in your career, demonstrating you have the skills to plan, prioritize and exercise accountability will make you very desirable in your next role.
The teacher is also the student
I am always swinging between balance and accountability. I find that often when I free up my schedule to do the things that matter, they quickly fill up with new ideas and pursuits. I'm just wired that way because there is so much I accomplish. And then things like breaking my ankle a year ago or simply taking a cruise, remind me to slow down and put things in perspective. I just returned from a vacation and I've peeled away yet again those activities that do not matter. I'm juggling less balls in the air and I'm spending more time with you. I care about you and I want you to juggle and struggle less.
Building new skills takes practice and I want to be there for you. We cover this framework in our Drop In C-Suite Academy which is still accepting students for enrollment. If you would prefer a 1-2-1 approach, I can also offer my coaching services.
For more information about The Drop In C-Suite Academy (CS) dedicated to the aspiring C-Suite leader, simply register to get on the waitlist, email me or connect with me for a quick chat. I can't wait to help you be successful and reach your goals!
For more resources, you can listen to The Drop In CEO Podcast or check out my book The CEO's Compass will help you get on track in days not months.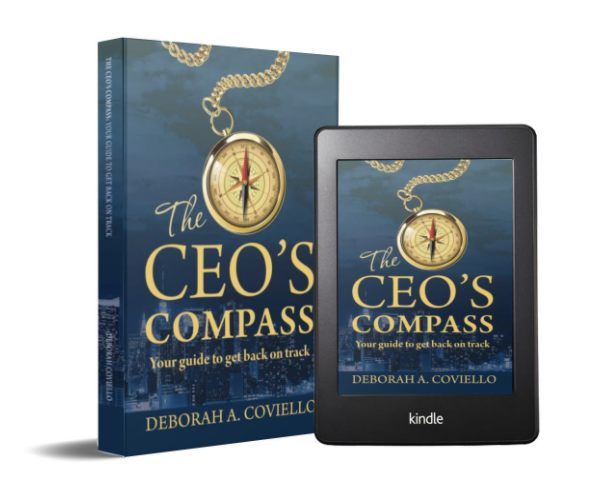 Resources
Good Reads
Taking the week off because I'm focusing on connecting with you for the Drop In C-Suite Academy. I'll come back to you next week with a favorite book I'd recommend.
Good Music
This week, I was so inspired by the topic that I did not need music to help motivate me. I have found recently when I walk my dog Reagan in the cool spring air that listening to the natural music of birds and the silence is all that I need to set me up for the rest of the day. (If you listen to my podcast, Reagan makes a periodic appearance!)
Good Advice
I love this quote from my podcast guest this week. I've learned that the journey is better when you travel with friends. Great advice from James:
"Regardless of your level in the organization, I think there's always an opportunity to have advisors who can help you stay authentic and stay vulnerable."
–James Wetrich
If you love the podcast, please write a review. We are offering a quick tutorial to make it easy to leave a review